How are shipping costs determined?
For most orders, shipping costs will be quoted based on our actual shipping costs to your destination. The excellent discounts we receive through our shippers help us keep your shipping cost as low as possible.
Occasionally, if we are unable to immediately quote a price for your shipping, you may see a note to that effect in your shopping cart and during checkout. This may happen if an address is not correctly recognized by a shipper, or if the order is too complex to be automatically calculated. In this case, we will determine the shipping charges after you place the order and then contact you for approval before shipping.
How long will it take to receive my order?
We generally ship the same day your order is placed, during regular business hours and subject to the UPS Days of Operation, if your order is submitted prior to 3:30 PM Mountain Standard Time.
Once your order is shipped, the time it takes to receive your purchases depends on the service you select, and any applicable holidays or service-affecting events (see the list below).
For Domestic Orders:
UPS Ground: generally, 1-5 business days (see UPS map below)
UPS 2nd Day Air: 2 business days, guaranteed*
UPS Next Day Air: 1 business day, guaranteed*
* UPS delivery guarantee is subject to the UPS Tariff/Terms and Conditions of Service
What are typical delivery times for UPS Ground?
The approximate delivery times for UPS Ground are shown on the map below: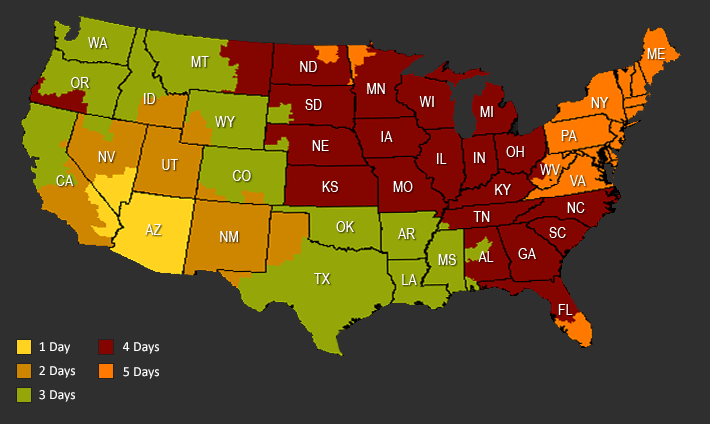 What holidays affect the delivery time of my shipment?
Each shipper recognizes several holidays that may affect the time it takes to receive your shipment. Events and weather may also add delays.
Where do you ship?
We ship to anywhere in the United States.
Where can I find my tracking number?
The tracking number for your order is automatically emailed to the address you provided during time of checkout.
How do I contact UPS, USPS or DHL?
Phone: 1-800-PICK-UPS
Website: www.ups.com
Website: www.usps.com
Website: www.dhl.com